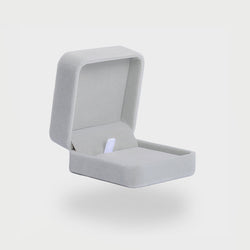 Waterproof & Tarnish-free

Free Shipping Worldwide

Exchange & Return Policy

4.8 Rating Across Our Reviews
Receive your necklace in an exquisite jewelry box. Beautiful necklaces can't just be shoved into a dark drawer or hung on a nail, they require a stylish jewelry box for safekeeping. Present your custom necklace in a soft-to-touch case with ease and sophistication.
Please allow 7-10 business days before shipment to create all custom 18k items.

U.S SHIPPING RATES (USPS): Free - 6-10 business days

INTERNATIONAL SHIPPING RATES: Free - 7-10 business days
What Is It Made Of?
Real Gold and Silver Plated - Made from stainless steel and plated with the highest quality 18K gold, this piece of jewelry grabs your attention as the center of your outfit.
Do You Ship Outside Of The U.S?
Yes, we ship worldwide. 
Does It Turn My Skin Green?
Absolutely Not! All of our jewelry is 100% non-tarnish & HYPOALLERGENIC. No Rusting. No Green Skin.